Jak się zachować kiedy widzisz pojazd uprzywilejowany?
Ten artykuł dedykowany jest głównie cywilom, osobom nie działających w służbach ratowniczych a poruszających się na co dzień pojazdami.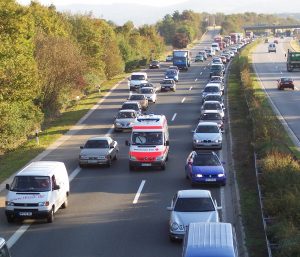 Sygnał syreny i pobłyskiwanie niebieskich świateł w oddali – to znaki rozpoznawcze nadjeżdżającego samochodu uprzywilejowanego, który na drodze powinien być świętością. Naszym obowiązkiem jest utorowanie drogi takiemu pojazdowi.
Reakcje kierowców na widok pędzącej na sygnale karetki, radiowozu czy wozu strażackiego są różne. Wielu z nich, zamiast pomóc w szybkim przejeździe ratowników, jeszcze bardziej utrudnia im życie. Pamiętajmy, że to od naszego, świadomego zachowania zależy czas dojazdu służb ratunkowych do potrzebujących.
Do najczęstszych błędów kierowców należą:

– gwałtowne hamowanie przed pojazdem uprzywilejowanym,
– zjeżdżanie w odwrotną stronę niż pozostałe pojazdy (tzw. choinka),
– głośne słuchanie muzyki i brak reakcji na wysyłane sygnały świetlne i dźwiękowe,
– niespoglądanie w lusterka,
– wjeżdżanie w kolumnę pojazdów uprzywilejowanych.

Co mówi o tym Kodeks Drogowy?
"Uczestnik ruchu i inna osoba znajdująca się na drodze są obowiązani ułatwić przejazd pojazdu uprzywilejowanego, w szczególności przez niezwłoczne usunięcie się z jego drogi, a w razie potrzeby zatrzymanie się."
Przepisy, jak widać, jasno określają, co powinien zrobić kierowca.
Jak się zachować?
Uczestnicy ruchu są zobowiązani ułatwić przejazd pojazdu uprzywilejowanego, w szczególności przez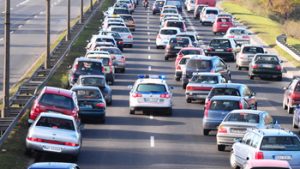 niezwłoczne zjechanie z drogi, a w razie potrzeby zatrzymanie się. Niezastosowanie się do tego nakazu grozi mandatem karnym oraz punktami karnymi. Obowiązek ustąpienia pierwszeństwa pojazdom uprzywilejowanym spoczywa na wszystkich uczestnikach ruchu drogowego.
Obowiązek ten spoczywa również na pieszych i rowerzystach. Nie wolno przechodzić, czy też przejeżdżać przez przejście dla pieszych/ścieżkę rowerową wtedy, kiedy nadjeżdża pojazd uprzywilejowany
Pomyśl o osobach, które być może właśnie walczą o swoje życie!
Ustępowanie pierwszeństwa pojazdowi uprzywilejowanemu na zatłoczonych drogach, zwłaszcza dwupasmowych jest trudne. Trzeba trochę umiejętności, zgrania i przede wszystkim wyobraźni. W takim przypadku najlepiej utworzyć KORYTARZ RATUNKOWY!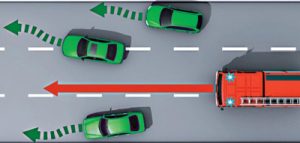 Co to jest korytarz ratunkowy?
Korytarz tworzą kierowcy, czyli Ty i Ja. Tworzenie korytarza ratunkowego to świadome ustawienie samochodów w sposób umożliwiający swobodne i szybkie przejechanie samochodom ratunkowym do miejsca wypadku.
Korytarzem ratunkowym mogą posługiwać się nie tylko samochody uprzywilejowane takie jak Pogotowie Ratunkowe, Straż Pożarna i Policja, ale również takie, które mogą wesprzeć służby ratunkowe w udrożnieniu drogi np. laweta pomocy drogowej, piaskarka, dźwig, itp.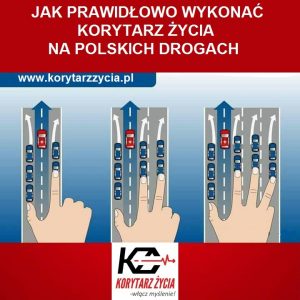 Zasady są następujące:
– w przypadku dwupasmowej jezdni, kierowcy z lewego pasa zjeżdżają maksymalnie na lewo, a kierowcy z prawego pasa maksymalnie na prawo. Pamiętaj, możesz wtedy wjechać nawet na trawnik, korytarzem będzie musiał przejechać duży wóz strażacki.
– w przypadku trójpasmowej jezdni, kierowcy z lewego pasa zjeżdżają maksymalnie na lewo, a kierowcy ze środkowego i prawego pasa maksymalnie na prawo.
Jak NIE korzystać z korytarza!  👿

Niestety, niektórzy kierowcy są zdania, że korytarz jest zrobiony po to, ażeby umożliwić im szybsze wydostanie się z korka. W tym celu zawracają i jadą pod prąd wiedząc, że z drugie strony jedzie Pogotowie Ratunkowe. Jak nazwiesz takiego kierowcę?
Pamiętaj wszyscy kierowcy nie odsuwają się na bok dla ciebie tylko dla osób ratujących życie!
Poniżej przykład prawidłowo wykonanego korytarza ratunkowego:
(film Tomasza Wyciszkiewicza)
Porada dla korzystających z CB-Radia:
– Warto na kanale ogólnym (19) poinformować o zbliżającym się pojeździe uprzywilejowanym. Pozwoli to innym kierowcom korzystających z CB-Radia na odpowiednio szybką reakcję.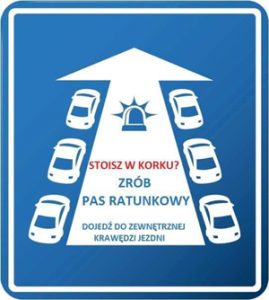 (Autor wykorzystał fragmenty tekstu i zdjęć z: korytarz ratunkowy.pl, autoświat.pl)