Handbook Taktyczny Strażaka Ratownika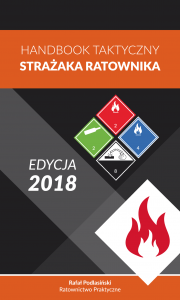 Jedyny oryginalny Handbook Taktyczny!
Pierwszy polski w pełni autorski Handbook taktyczny strażaka ratownika to pozycja obowiązkowa dla każdego strażaka – zarówno zawodowego, jak i ochotnika. Autorem Handbooka taktycznego jest st. kpt. Rafał Podlasiński – dowódca zmiany w JRG 15 w Warszawie, międzynarodowy ratownik USAR Poland, uczestnik wielu akcji ratowniczo-gaśniczych, w tym po trzęsieniu ziemi w Nepalu. Kpt. Podlasiński jest także specjalistą i instruktorem z zakresu ratownictwa technicznego, stabilizacji naruszonych konstrukcji budowlanych, działań poszukiwawczo-ratowniczych, obsługi elektronicznych urządzeń do lokalizacji osób zasypanych czy nawigacji satelitarnej i topografii. To strażak ratownik z pasją i pomysłami, członek OSP w rodzinnej miejscowości.
Główną zaletą Handbooka taktycznego jest możliwość wykorzystania go w czasie zdarzeń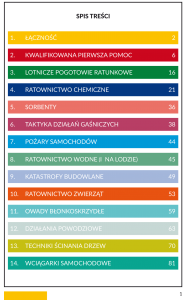 interwencyjnych. Poręczny, mieszczący się w każdej kieszeni handbook powinien być traktowany jako jedno z narzędzi pracy strażaka, wykorzystywane w kontekście podejmowania krytycznych decyzji na miejscu zdarzenia.
Szybki panel nawigacyjny z wykorzystaniem kolorów, szerokie spektrum poruszanych zagadnień, tabele przeliczeniowe, algorytmy, poglądowe grafiki, oraz możliwość odtworzenia przy pomocy smartfona zawartych w handbooku kodów QR, odsyłających do treści filmowych – czynią z niego narzędzie niezastąpione na pokładzie każdego wozu bojowego.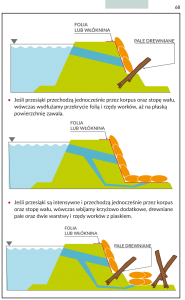 Handbook wydrukowano na wodoodpornym papierze syntetycznym wytworzonym z polimerów i spięto metalową spiralą. Papier syntetyczny wykorzystywany jest m.in. w produkcji map taktycznych w armii USA. Dzięki temu publikację cechuje wysoka odporność na środki chemiczne, promienie UV, wodę, tłuszcz oraz uszkodzenia mechaniczne.
Zobacz test bojowy Handbooka taktycznego wykonany przez Służby-Ratownicze.pl
Spis treści i przykładowy rozdział