Sprzęt firmy Grunwald zgodny z regulaminem?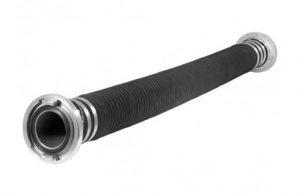 W ciągu ostatnich lat na naszym rynku pojawił się sprzęt  produkowany przez firmy zagraniczne przeznaczony przede wszystkim do używania podczas zawodów sportowo-pożarniczych.
Większość z was na pewno zna niemiecką firmę Grunwald, która jest liderem w produkcji tego typu sprzętu. Znamy też austriackie buty Firesport czy produkty naszych południowych sąsiadów Czechów i Słowaków.  Są to produkty bardzo dobrej jakości używane przez drużyny ochotniczych i państwowych straży pożarnych w całej Europie.
Niestety zdarzają się przypadki , kiedy przewodniczący komisji  sędziowskich nie zezwalają  na używanie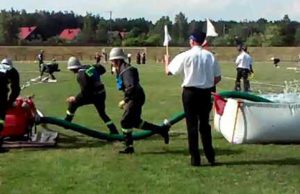 sprzętu z zagranicy podczas zawodów.
Czy sędzia ma w tym przypadku racje?
Regulamin zawodów mówi:
Punkt 2.4
Sprzęt używany podczas zawodów sportowo-pożarniczych musi być znormalizowany (typowy), stosowany w ochronie przeciwpożarowej. Startujące w zawodach drużyny powinny być wyposażone we własny sprzęt zgodnie z wymogami danej konkurencji. Drużyny wykonują ćwiczenia na sprzęcie o jednakowych parametrach, określonych przez organizatora zawodów. Organizator może dla zabezpieczenia tych parametrów dostarczyć własny sprzęt.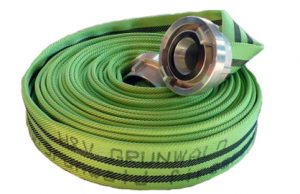 Co oznacza słowo "znormalizowany" (typowy)?
Każdy sprzęt ma wyznaczone odpowiednie parametry. Na przykład wąż ssawny mam mieć według regulaminu: średnicę 110mm, ma być nie krótszy niż 2,4m i ma posiadać łączniki.
W podręcznikach, które opisują sprzęt używany w pożarnictwie dodane jest jeszcze, że łączniki muszą umożliwić łączenie węży ze sobą lub z motopompą i smokiem ssawnym. To wszystko.
Węże ssawne produkowane przez Niemców lub Czechów spełniają te wymagania. Mają średnicę 110 mm, są dłuższe niż 2,4 m. oraz posiadają łączniki pozwalające na łączenie węży ze sobą lub z motopompą i smokiem.
Więc w czym problem?
Domyślam się, że chodzi o pewnego rodzaju zmiany, które producenci wprowadzają w celu polepszenia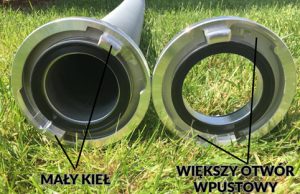 parametrów sprzętu. Na przykład węże ssawne są wykonane z bardziej elastycznego i lżejszego niż polskie, tworzywa. Mają mniejsze kły i powiększone otwory wpustowe.
Ale czy to powód, żeby odrzucić taki sprzęt z udziału w zawodach?
Tutaj przypominam zapis regulaminu mówiący, że: sprzęt musi być znormalizowany i stosowany w ochronie przeciwpożarowej.  Czyli innymi słowy powszechnie używany podczas działań. Zadam więc dwa pytania:
– Czy węże wykonane z bardziej elastycznego i lżejszego PCV nie mogą być używane podczas np. wypompowywania wody z piwnicy?
Oczywiście, że mogą. Nie mówiąc o tym, że strażacy będą zadowoleni z elastyczności i zmniejszonej wagi węży.
– Czy łączniki o mniejszych kłach i powiększonych otworach spustowych nie mogą być używane podczas działań?
Tutaj także odpowiedź jest oczywista. Mogą. Dzięki takim łącznikom łatwiej i szybciej sprawia się linię ssawną w każdych warunkach.
Dodam, że ani w regulaminie zawodów ani w podręcznikach pożarniczych nie jest określone jaki wymiar maja mieć kły lub otwory wpustowe.
Podsumowując.
Jako wieloletni zawodnik a następnie sędzia zawodów sportowo-pożarniczych, uważam niedopuszczanie tego typu węży do zawodów jako niepotrzebną nadinterpretację regulaminu.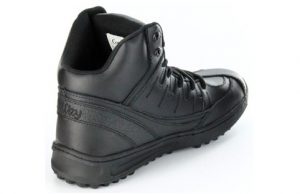 Wspólnie z moimi kolegami – również wieloletnimi sędziami – sprawdziliśmy pozostały sprzęt produkowany specjalnie na zawody.  Buty Firepsort, czeskie lub niemieckie  smoki ssawne, prądownice, rozdzielacze czy węże tłoczne spełniają parametry opisane w regulaminie zawodów oraz mogą być stosowane w ochronie przeciwpożarowej.
Słyszymy też głosy, że sprzęt używany w zawodach musi posiadać świadectwo CNBOP.
Mamy w jednostkach PSP i OSP wiele sprzętu, nieposiadającego świadectwa CNBOP. Są to między innymi: pilarki do drewna, przecinarki do stali i betony, prądownice szybkiego natarcia, łomy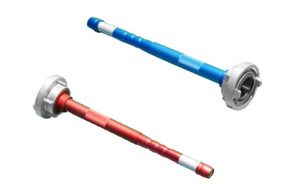 wielofunkcyjne, i wiele innych. Używamy tego sprzętu z powodzeniem podczas działań ratowniczych. Nie zastanawiamy się wtedy nad tym czy sprzęt ma odpowiednie papierki . Interesuje nas tylko to czy sprzęt jest w danym momencie potrzebny i czy spełni nasze oczekiwania. Chcemy aby był jak najlepiej dostosowany do naszych potrzeb.
Przypomnę, że wiele drużyn z Państwowych Straży Pożarnych używa podczas zawodów właśnie sprzętu produkcji niemieckiej lub czeskiej.
Drodzy sędziowie, nie bądźmy nadgorliwi. Sprawmy aby dzień zawodów upłynął w miłej atmosferze, a drużyny startujące w zawodach czuły, że osoby oceniające ich pracę są profesjonalne.